HOME
Technology
Technical Centrol
Technical Control
Technical Control
At DaiHan, each employee is dedicated to making the very best product possible through technological competitiveness and strict quality management.
Heat Treatment
For higher strength quality chains (Grade R4S & R5), we can reduce retained Austenite Structure in the chain through Double NDT system(Double quenching & tempering) and can obtain Fine Grain size as well as securing the homogeneity of microstructure. In addition, we are trying to increase impact strength by improving the ductility of welding area of chain and endeavor to make longer Fatigue Life of the Chain.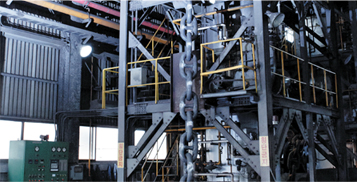 NDT system
To make up for the disadvantages of conventional UT(Ultrasonic Test) and to detect embeded defects stably & reliably, Phased Array type Automatic UT system with the vertical inspection lines has been introduced & installed for better inspection efficiency and accuracy.
Advantage
Secure accuracy and reliability through automated test instead of manual test by inspector
Reduce inspection time by scanning from various angles
Examine parallel embeded & any other defects of Flash Butt Weld area by scanning from various angles
Easy defect analysis and reading through real-time image realization (A, B, C, D & S)
Secure identification and traceability by recording and saving test data for each link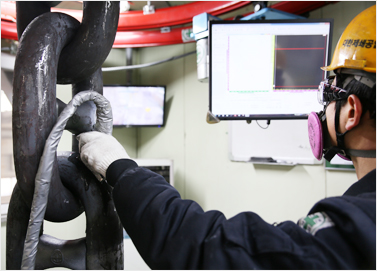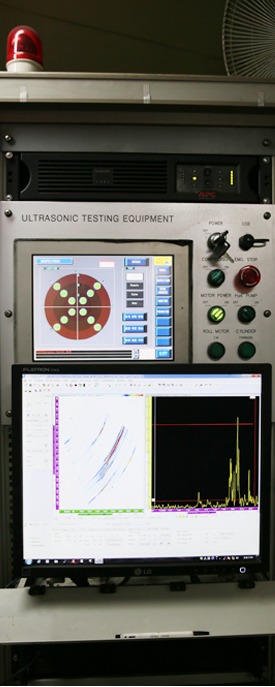 Flash butt welding
Regular calibration of high-quality welding machine(ESAB) and standardization of optimum welding conditions have contributed to quality enhancement on the welding line. The results of welding operations for chain cables are automatically recorded on the computer zip drive for perfect product traceability.